Thank you so much for all the help, we are so happy with your work. Looking forward to doing the next project with you.
Tara S. of Monroe, CT
Wednesday, July 17th
I had LG do two jobs for me over the summer/fall. The workers were courteous and really did a great job! Cannot say enough about them. Reasonably priced and professional. The office staff kept in touch with us very regularly so we knew what was going on at all times. Wonderful experience.
Graeme J. of Southbury, CT
Tuesday, October 1st
We remodeled my elderly, disabled parents' main bathroom during a very difficult time in their lives. With much gratitude, I can say that the entire process of the remodel was much smoother than I anticipated. The entire LG team was friendly, professional and flexible. They were sensitive to the challenging family dynamics within which the project took place, and they proficiently completed the project within the contracted time frame.Ron, who came out several times to work on an estimate, was knowledgeable, reassuring and timely in responding. It was these initial interactions with him, along with a fair quote, that gave me the confidence to know that LG was the right choice. Casey, the project manager, really made sure the entire project ran smoothly. He was readily available as needed and would check in on-site most days. When questions or issues arose, he was quick to communicate with me and problem-solve. I would get a phone call from Linda every afternoon, keeping me apprised of what had been done that day and what the next day would bring. This level of customer service was a pleasant and most-welcomed surprise to me. Marc, who did the bulk of the labor in the bathroom, did a superior job. His precision, eye for detail, and craftsmanship leave room for zero criticism. His easygoing demeanor lent to a comfortable flow of getting the job done amidst the challenging home environment. I couldn't be happier with both the service and the finished product we received from LG Building & Remodeling, and I would without hesitation recommend them to others as well as use them for my own future projects.
Bonnie D. of Southbury, CT
Friday, February 14th
We had ceilings that needed repair after someone stepped through from the attic. Ceiling was broken all the way through and to the walls. I worked with Ron at LG, he was terrific. Gave us a fast estimate and had the job done within two weeks. They have very experienced carpenters and craftsman type folks that do the work. Neat and clean, Thank you!
Barrie V. of Southbury, CT
Monday, January 13th
Thanks again for doing the repairs so quickly before the storm. I can't wait to get the next project finished. Thanks again!
Nancy S. of Oxford, CT
Thursday, March 8th
We are writing to tell you what a wonderful experience it was working with LG on the conversion of our open deck into a gorgeous four season room and the siding of a kitchen "bumpout" which adjoins the room. We are thrilled with the results. It started with your salesman and estimator, Ron Marra, who expertly put our concept on paper and obtained both the variance from the Condominium Association and the full permits from the town to build the room on our behalf.  We can truly say that everyone who worked on the project, including all of your subs, were knowledgeable, professional, and courteous. We were especially impressed with your head carpenter on the job, Steve, who was very particular and precise. We were also quite impressed with your daily emails explaining what was accomplished that day and what was scheduled for the following day and the time that the workers would arrive so that we could plan our day. Also, we appreciated the fact that you had a dedicated truck and worker to clean up the site of the debris on a regular basis. All in all, we were very satisfied with your work and would not hesitate to recommend you to anyone planning a similar project.
Deb & Rich D. of Oxford, CT
Tuesday, January 7th
I recently built a "tiny home" and could not have been happier with LG Building and Remodeling. From the first meeting to assess the feasibility and cost of the project to the completion and move in, the process was seamless. The project manager and the entire crew were outstanding. Any questions or changes were dealt with in a timely fashion. I received daily updates from the office. The project came in on time and on budget!
Dawn T. of Washington, CT
Sunday, May 24th
Thank you for working our small job into the schedule.  We appreciate it.
Mary Jane T. of Woodbury, CT
Sunday, May 24th
I saw the ad for LG Building in Voices weekly newspaper and emailed them to look at my damaged ceiling. They responded within hours and we set up a mutually agreeable time for Lyman to come review the project. They arrived exactly at the time we had set up, which was so nice. They sent an estimate within 2 weeks and we agreed to the contract. The chimney was repaired, ceiling painted and all parts of the project complete within 6 weeks. I would highly recommend LG Building and rate them 5 stars.
Bonnie J. of Bethlehem, CT
Friday, May 31st
Very professional. The work was completed in a timely fashion and is very solid. Wind ripped off some flashing and siding on my house. I got an estimate quickly and the LG crew was in and out in a day. Granted it was a smaller job but I couldn't be happier with it.
James C. of Bethlehem, CT
Wednesday, February 19th
Thanks, LG! The 2nd floor looks fabulous and the work done was great. Please feel free to use my name as a reference.
Laurie B. of Middlebury, CT
Monday, March 28th
Thanks! We LOVE our kitchen and dining room.
Traci G. of Middlebury, CT
Monday, December 10th
LG Building & Remodeling just recently finished my basement, and quite frankly, I cannot praise their services enough. The attention to detail, quality of craftsmanship, timeliness of work execution, reliability, and general support & guidance were outstanding. The place is now absolutely gorgeous. I had planned a separate room divided by French doors, a large entertainment area with a wet bar, and a half bath. This required plumbing, HVAC, electricity, carpentry and everything else construction. From start to finish, the project was seamlessly executed in a high quality fashion. A few words about the team work; Casey oversaw and orchestrated the entire project. He was always available, quick to respond & resolved any challenge that showed up along the way. He was always very friendly and open to any adjustment, and importantly too, he genuinely listened to me and addressed my dilemmas. LG, Casey, and Linda at the office were patient and always eager to resolve/answer my queries – all along. Options were always made clear and I was NEVER left with surprise expenses from day one, at contract signing, and throughout the project. They made sure they stayed on budget and if I made changes along the way, I was immediately informed of what that entailed budget-wise. To me, the entire team at LG Building & Remodeling is the dream-team of contractors. They are honest, hardworking, and respectful – qualities I don't take for granted. One is often hesitant when undertaking a comprehensive project – but LG has broken that cycle of reluctance for me. I will surely use them again when I need contractors in the future and I recommend them to anyone, hands down. Bravo to all of you at LG and thanks so much for making my home a more beautiful space to live in.
Karen P. of Middlebury, CT
Tuesday, November 19th
My husband and I called LG Building and Remodeling for a quote on a new roof based on their reputation for high standards. Given the current COVID conditions, they were able to provide an estimate based on a software program. Within a day we received the estimate and accepted the contract with the color samples for the Timberline shingles delivered the next day. A crew began the following week and completed our multi-gabled house and adjacent enclosed porch in two days. They worked long hours, provided knowledgeable labor, and cleaned up thoroughly after their day's work. The shingles are, as I told Lyman, spot on with regard to quality, texture, and color and has turned our home into a showcase. I would recommend LG Building and Remodeling without hesitation!
Liane C. of Roxbury, CT
Wednesday, June 3rd
LG Building and Remodeling Before & After Photos
Click on a photo to enlarge.
Kitchens
Additions / Room Renovation
Bathrooms
For the Love of Wood
Custom Home Construction
Basement Finishing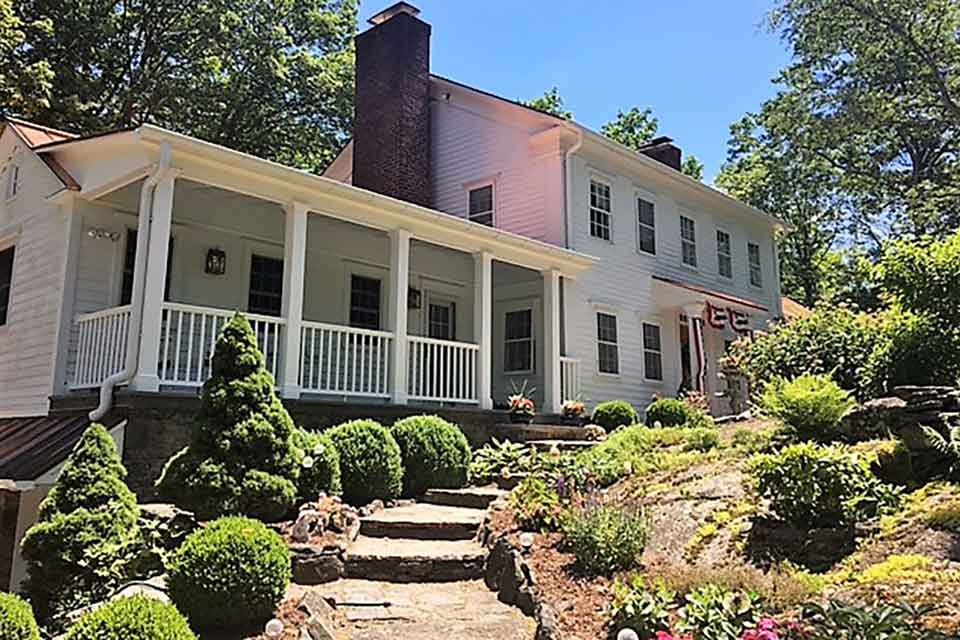 Roofing & Siding
Windows & Doors
Help Us Plant Trees to Benefit the Environment!
At LG Building, we are partnering in 2021 with onetreeplanted.org, planting a tree for every new project we engage this year.